Creative in Residence: Cody Carlyle Dixon |
July 17, 2017
Lowcountry Local First
 (LLF) is proud to announce Cody Carlyle Dixon as one of the two recipients of its Creative in Residence program, an initiative that awards a six-month opportunity at
 Local Works
, LLF's non-sector coworking space. Cody will began this residency on July 1 and will receive mentorship over a six-month period to enrich his creative ventures.
Cody is full of passion that shows in not only his own work but in the community around him. He continues to contribute a ton to the Lowcountry and is a great fit to Local Works. We are excited to see what the rest of the year will bring with Cody here.
What do you do?
Well I'm a sound engineer and stage hand for local venues around Charleston. I've been doing that as well working as a musician and producer in the area for 7 years. I work with the places like Awendaw Green, Redux, The Purple Buffalo, and Charleston Music Hall as well as other lowcountry non profits. I also write poetry and other types of music as well as rap.
What are your some of your goals?
I want to combine all these things into programming for workshops, retreats and after school programs for kids in under privileged areas and in schools lacking art funding.
Why do you do what you do?
I'm doing the work I'm doing now to make a difference in a children's lives who weren't blessed to have opportunities in music and other art mediums that I had. I always had these resources readily available and in a country where arts funding is getting cut I want to do my part by providing those same resources and opportunities. By showing kids all the different aspects of not only the music industry but the arts industry as a whole gives them more opportunities and choices of what they want to do when they are older.
What is your creative process?
My creative process is pretty random. I have set times I'll sit and write music or plan events or programs but a lot of my thoughts hit me randomly and I have to stop and get them out or write them down.
What inspires you?
I usually try and immerse myself. Music is very inspirational to me so I get my ideas while I listen to music or at events. A lot of my inspiration comes from past civil rights and musical movements like the black panthers, the Harlem renaissance or the origins of hip hop. All those movements were built on unity and the rearing of the youth which are strong principles I want to keep close to soul power.
What are you most looking forward to with the creative in residence program?
I brainstorm and collaborate a lot with others as well which is also what I'm most looking forward to at local first. I can't wait to meet other members and businesses and collaborate to create something that impacts a lot of people.
What is one piece of advice that you wish you heard when you first started?
One piece of advice would be to practice and plan more because you can never have to much experience in those areas when practicing a craft!
Local Works Welcomes 2nd Round of Creatives in Residence |
June 26, 2017
Lowcountry Local First (LLF) is proud to announce Matthew Mebane and Cody Carlyle Dixon as the two recipients of its Creative in Residence program, an initiative that awards a six-month opportunity at Local Works, LLF's non-sector coworking space. Matthew and Cody will begin their residency on July 1 and receive mentorship over a six-month period to enrich their creative ventures.
Matthew is a filmmaker who plans to use his time at Local Works to make significant progress on a socially relevant film based upon the true story of a local Charleston hero. Matthew began his career assisting Academy Award-winning director of photography, Russell Carpenter (Titanic) and continued to study filmmaking first hand as an assistant cameraman on the set of motion pictures with such acclaimed filmmakers as Paul Thomas Anderson, Terrence Malick and Robert Redford. Matthew quickly took what he learned on the job and seamlessly applied it to his own projects. His films have screened at over 75 festivals worldwide and earned 18 awards: including accolades from Sundance and Slamdance.
Cody will continue developing his current outreach project known as "Soul Power." He is traveling to Dakar, Senegal to spend time with IQRA Bilingual Academy, an Islamic-centered international school, to teach music and production. He is raising the funds necessary to build a studio,  record and produce an album for the academy's choir. Proceeds from this album and merchandise, along with donations and sponsorships will allow him to secure equipment for the academy as well as stimulate the local artistic community and economy. During Cody's time at Local Works, he will take on a similar project here in the Lowcountry, helping a Charleston County school that faces the same struggles as the IQRA academy.
Cody and Matthew were selected by a committee of coworkers and past Creatives in Residence out of more than 15 applicants. The overwhelming response to the call for applications continues to prove to the organization the need for more support for local creatives.
To follow their progress and learn more about the coworking space, follow Local Works on Instagram or Facebook.
Local Works 2016 Wrap Up |
December 13, 2016
Somehow it's already December. We're not sure how that's possible or where the time went but we're facing facts and conceding that 2017 is right around the corner. But before we start making resolutions for next year, we're pausing to reflect on some of the amazing things that've happened at Local Works in 2016.
We opened our doors to some exceptional local organizations that needed a space to host their meetings, events, and parties.
– Hatch Tribe held their first ever after hours social in November at Local Works
– Startup Grind hosted LevelWing's Steve Parker Jr at LocalWorks
– Center 4 Women held their quarterly Mastermind Exchange at Local Works
– Broom Wagon led a coffee tasting for our Local Workers at Local Works
– Charleston Legal Access threw their launch party at Local Works
– We hosted an artist reception for Julia Deckman at Local Works
– The Growing New Farmers program hosted their weekly classes at Local Works
We welcomed a new wave of Local Workers in 2016. Their presence brought new energy and enthusiasm to the space. Some notable newbies include:
– Charleston Legal Access
– Robinson Design Engineers
– Charleston Jewish Community Center
– SC Charter School District
– R2L Architects
– The Folly Beach Company
– CLANE Group
– Town Scout
– Friends of the Lowcountry Low Line
– The Art Counsel
– Smith & Hastings
– Deliberate Method
We worked really hard and it paid off big time. With hard work came some big wins that we'll be celebrating throughout 2017.
– We launched a Creative In Residence program and received more than 20 interested applicants.
– We received a $50,000 for being a winner of the U.S. Small Business Administration's (SBA) annual Growth Accelerator Fund Competition.
– We launched a new video that showcases the story behind Local Works and recognizes some of the individuals and companies that make the space so unique. Watch now!
– We were recognized as a cool place to work by Charleston Regional Business Journal!
2016, you were great—we had a lot of fun and we did a lot of incredible things. We can't even imagine what 2017 has in store for us but we're ready with open arms to see what the future holds.
Want to join us in 2017? Request a Free Day Pass and come see what it's all about!
Artist Spotlight: Julia Deckman |
December 8, 2016
Local Works strives to create a comfortable and inspiring workspace for our members. One of the ways we do this is through collaborations with local artists. Each quarter, we invite an artist to display their work throughout the space—it's become a revolving perspective that's brought something fresh and interesting for us to admire and discuss.
Throughout the fourth quarter of 2016, we proudly displayed the work of Julia Deckman, a Charleston painter known for her candy-colored Charleston home and business portraits. We chatted with Julia about her love for Charleston and the many things that inspired her to create this collection.
How do you choose your subjects?
I am genuinely inspired by the restaurant industry here, so this series is actually very personal to me. I have real and personal relationships and histors with several of the establishments, and I imagine I will be painting more Charleston staples in the near future. For my Charleston Hospitality series, I began with establishments especially meaningful to me like Queen Street Grocery, one of my favorite "neighborhood" spot.
I used to live very close by and would often walk there with one of my pups to grab a smoothie or sandwich. The owner, Rob, is wonderfully supportive of local creatives and has even hung a few of my pieces.
What is your creative process?
I make sure to keep myself open to inspiration, wherever it may come from. Once I am inspired to take a certain direction, I use photography to help create my compositions. I take several pictures and choose my favorites to base my pieces on. But I try to remain flexible to change— a final piece will often be much different than how I originally planned.
What inspires you?
My greatest source of inspiration come from nature: light and color consistently blow me away. Whether it's the sun shining, shadows dancing, or the ways the color of the sky or ocean can shift, I try to make a mental catalog of my surroundings. And now that we have smart phones, I try to take a quick picture so I can revisit the moment when I'm in need of a little inspiration.
Your studio is at Redux, is there a fair amount of collaborating and coworking?
I am extremely fortunate to work in Redux. I moved into my studio over this summer, so I'm a relatively new member and still forging friendships with the other artists. I am always open to collaboration, as well as advice and critique. I don't have any collaborations currently planned with other Redux artists, but I am collaborating with other creatives on the "Charleston Charm" pop-up shop we are hosting at Candlefish on October 7th. I hope to have similar collaborations with my fellow Redux artists in the near future.
Why is supporting 'local' important?
Charleston is a truly special city. It's the feeling of being a close community while in the midst of a large city that makes Charleston so special. This city feels like "home" to me, and I want to take care of my home and neighbors. If we fail to support our local businesses, we will lose the charm and sense of community that makes Charleston unique. And now that our home has become such a popular destination, we need to be extra careful not to lose sight of what's truly important. What is important to the wellbeing of our city is making sure that there's not a Starbucks on every block or an IHOP downtown for the tourists and college kids, it's recommending all of the wonderful local places they should try (insert Kudu, Blacktap, C&B, Dixie Supply, etc).
We're honored to have Julia's work decorate our space and we hope you'll come by for a tour to check it out. For questions about working at Local Works, contact us today!
Local Works Announces Creatives in Residence |
December 8, 2016
Lowcountry Local First (LLF) is proud to announce Katie Ashley and Tyquan Morton as the two recipients of its Creative in Residence program, a new initiative that awards a six-month opportunity at Local Works, LLF's non-sector coworking space. Ashley and Morton will begin their residency on January 1stand receive mentorship over a six-month period to enrich their creative ventures.
Ashley is an essayist, blogger, yoga and meditation teacher, and podcast host. She will spend the residency writing as well as editing podcast episodes, creating in-person and virtual workshop agendas, and working on both the creative and business sides of her brand. Of the opportunity, Ashley says, "Having access to Local Works will be a game changer for me and my business, as it will allow for me to have a consistent, inspiring, and productive workspace and community."
Morton is a poet interested in affecting change in the community through his writing and social justice efforts. A prevention and inclusion specialist at South Carolina Coalition Against Domestic Violence and Sexual Assault, Morton plans to spend the residency writing and editing poems that will be a catalyst for the social justice work he does. Of the residency, he says, "I believe there is so much power in collaboration, especially in a small, but ever-growing city like Charleston."
Given the overwhelming response to the call for applications, Lowcountry Local First has plans to conduct a second creative residency program later in 2017; details will be announced in the near future.
Through Her Lens |
May 3, 2016
Kelly describes herself as a Social Justice Documentarian. She's covered issues such as high foreclosure rates that were crippling communities in Boston, Massachusetts with her project We Shall Not Be Moved. She highlighted the coming of age story of 15 year-old Courvosier Cox with her compelling project In This World. Courvosier as one of six children to a single mother, has the odds stacked against him. Yet he continues to fight to maintain his spirit of steel, and his infectious charisma all in hopes of one day reaching stardom,  "I met Courvosier when I lived in North Carolina and he was an entrepreneur. He was going around the neighborhood doing odd jobs to get money. I was so drawn to him after he kept telling me about his plans to go put on a talent show and then eventually go to LA that summer with a reel in hopes of making it in show business. I originally wanted to do this short film because after coming off of doing the pork project I just wanted something more lighthearted. It didn't exactly turn out to be as lighthearted as I thought."  With her previously mentioned pork industry film, Whole Hog, she and her team ran fearlessly into the contentious war of pork in the state of North Carolina. A task which Kelly herself admits was daunting. "We got letters from pork industry and public health sector officials saying they were displeased with the outcome of the project. We interviewed people who made us promise not to publish anything they said. A farm manager basically told us that he wasn't happy with us even being there to film. There's a culture of pork in North Carolina that's deeply ingrained. We encountered a lot of skepticism on that project. We got praise but a lot of push back too." Creedon recounts.
Creedon, a New Jersey native who relocated to Charleston a couple of years ago to reconnect with family, began on her path of becoming a documentary film maker in undergraduate school at the Salt Institute located in Portland Maine. She started out doing photography because it was the medium she first identified as being able to express "the unique emotion of moments." In a desire to put "voice to those photos" she moved into film. She lists the qualities that go into making a good documentarian as "being curious about the world, having a genuine interest in people, possessing an open mind to being surprised about the world and having the fortitude to be solidly wrong about preconceived ideas. One of the things that stuck with me about getting into this line of work is that you're not in this for money. You do it because you just couldn't see yourself doing anything else." The lack of glitz and glamour attached to making documentary films brings back to memory a humorous yet bittersweet description given by comedian Louis CK at Oscars on how this line of work often goes under appreciated. Being a documentary film maker often calls for thankless toil, doors slammed in your face, and often time being viewed as an interloper. However, Kelly keeps in mind that being a social justice documentarian is worth it if the effort stays pure and can showcase the human elements within social issues. A real story, like that of Courvosier Cox, takes statistics, which can often be flippantly presented in a news crawl at the bottom of your television screen, into a relatable story. "My main goal in storytelling is bringing people into relationships."
Creedon became a member of Local Works after moving to Charleston from Durham to be closer to her family and our beautiful coastline. She's no stranger to the coworking concept and even helped to found Make Shift Boston, a coworking space in Boston, Massachusetts "for socially minded creative individuals." She values the relationships and collaborations that can be formed within a coworking space and found Local Works to be a natural fit. "It's nice to be able to wake up in the morning with a set place to go and not just a coffee shop. I like being around other people who are full time involved in their work." During her time here at Local Works she has already started work on her next projects, one of which is close to her heart. "The next project will feature my mother who at 68 has become obsessed with tap dancing; she's been doing it for seven years now. She even does performances." She's also hard at work on editing a feature length film that follows a family's struggle with their farm. "I'm becoming more and more interested in long form work. It's creatively fulfilling. This work is all about what I can learn from connecting with people."
One of the absolute highlights about joining a coworking space is discovering stories and projects like Kelly's, which are expansive and inspiring. Collaborations abound in the Local Works environment, especially when surrounded by so much talent. Make sure to check out Kelly's work on her website kellycreedon.com and follow her on Twitter @kellycreedon to keep with screenings and updates of her latest projects.
eatUP! |
April 28, 2016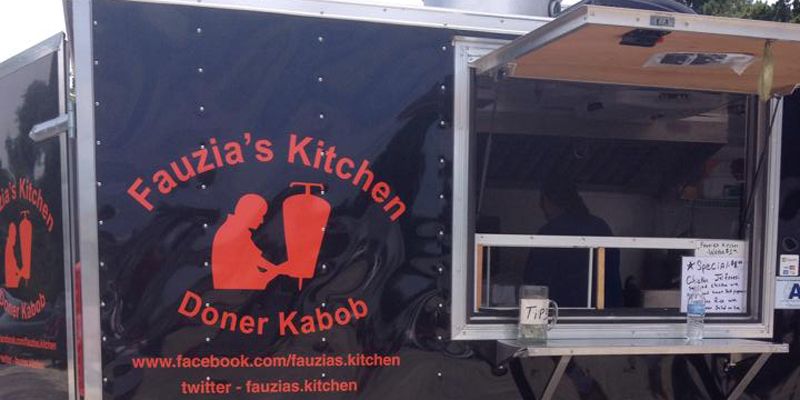 Lowcountry Local First in conjunction with Enough Pie are thrilled to bring you Spring 2016 eatUP! starting in April various food trucks will be located in the lot of 1600 Meeting Street serving lunch to the Upper Peninsula from 11:30am-1:30pm.. Come together over delicious food, play some corn hole, and enjoy some rays outside at Charleston's longest communal table created by Aaron Lucas. Check the schedule below and follow us on Twitter @LocalWorksChas for new food truck additions.
May 31st– Avila: (www.avilacharleston.com)
June 2– Fauzia's Kitchen – Afghani cuisine  (http://www.fauziaskitchen.net/menu.html)
June 10- Rebel Taqueria (http://www.rebeltaqueria.com/menu.html)
June 14- Avila (www.avilacharleston.com)
June 22- Dashi (http://www.dashichs.com/)
June 30- Towin' the Dough (https://www.facebook.com/towinthedough1/)
Befriend Stress to De-Stress |
March 30, 2016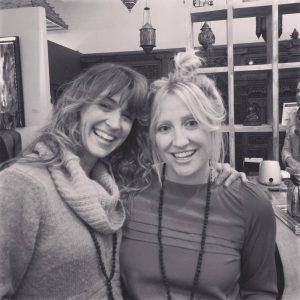 The phrase "work-life balance" has now become rooted in our lexicon. For many it has become the elusive leprechaun at the end of the rainbow, impossible to obtain. Life contains multitudes that can overlap and overwhelm. Careers, commutes, family, financial hurdles and even carving out time to 'relax' are just some of the elements that fill our daily planners and saturate our thoughts. The founders of The Charleston Wellness Group (CWG), Hallie Buchanan and Lyn Tally, began their business with the desire to help others accept and learn to manage life's hurdles as well as to make "mindfulness" a part of our daily vocabulary.
Buchanan and Tally met in 2012 and bonded over their mutual practice of the Phoenix Rising Yoga Therapy technique. The client-centered Phoenix Rising method explores more than just the physical act of practicing yoga, but is aware of the mind-body connection. It's a non-directive method of yoga that propels the concept of mindfulness. They wanted to bring this concept to others and focus on accessibility and ease. From that motivation The Charleston Wellness Group was launched with the ultimate goal to "befriend stress to de-stress."
In this time when humans are nearly interwoven with technology it can daunting to find a healthy balance between work and everyday life. Our phones ping with work email alerts on an otherwise lazy Saturday afternoon, we're reminded via text by a supervisor about an upcoming deadline during Sunday dinner, etc. The work hours boundary has been blurred in part due to accessibility. Buchanan encourages her clients to protect their well-being through boundary setting. As hard as it is to resist that pinging and ringing, it's the easiest way to maintain a delineation between personal and career life.
One of the major themes that The Charleston Wellness Group focuses on is mindful stress management. In order to manage your stress however, there must be a conscious effort made to recognize and cope with it. Buchanan advises her clients to have "the awareness and mindfulness of how they're showing up to their life." This can start simply with recognizing that there is time in your busy day to include an exercise of mindfulness. Whether it comes in the form of a 2 minute meditation walk during lunch, taking note of each time you see the color yellow, or being more aware of what you eat throughout the day. The CWG program titled The Deliberate Method, includes options for personalizing the practice of observing mindfulness. This program will take into account each client's personal life and how best to incorporate the skills they teach into each client's life. It all begins simply – a mere 2 minutes of reflection can make a world of difference.
Multitasking is often touted as a admirable trait. It's something that we should all strive for, right? We should be able to take that conference call during the morning commute and send off a quick text to your spouse to remind them of the kid's play at 5 while you're at the stop light. After work you can head to the gym. While you're on the treadmill you can plug in your headphones and make some audio notes about tomorrow's presentation or focus in on the TV monitor in front of you and get immersed in CNN. It's easy to get lost in multitasking, because it's encouraged to constantly "kill two birds with one stone." Buchanan and Tally encourage a single focus mindset, to be 100% present in the moment of your single task. A minor task such as sweeping the floor can be a meditation, if you become focused on that one act. Don't let your gym time become another outlet to multi-task. Be present in the moment of your exercise routine. Notice how your body responds to each movement. Tally notes that their method begins with teaching their clients the 'Why' of mindfulness. Why is mindfulness a necessity? Both Buchanan and Tally have seen clients who have battled the physical manifestations of stress, whether that be anxiety, heart palpitations, auto immune disorders or insomnia. They teach that ignoring your mental health is not something that anyone can afford. The Charleston Wellness Group integrates yoga, counseling, and online guidance to assist their clients on the path to slowing down.
In an effort to further break down any barriers that newcomers to The Charleston Wellness Group may harbor, Tally provides a simple way to view mindfulness:
"Growing up you learn to do certain things regularly, such as brushing your teeth or bathing. If you don't do these things in a 30 day period, how would you feel? That's what we want to do with mindfulness – make it essential."
The work life balance, while daunting is not insurmountable. Incorporating small steps into your everyday life can lead to a new awakening and ultimately an enhanced well being. We are grateful to have their calming presence in our Local Works coworking family!
The Mighty Pen-David Lee Nelson |
February 29, 2016
There is such trans-formative power in the written word; even more so when you see those words come to life. A book, play or poem can take you to another place and time, inspire, or spark a nostalgic moment in time. Greenville native and long time Charleston transplant, David Lee Nelson, is a versatile artist who decided in 2002 to join the ranks of his personal favorites, Samuel Beckett and August Wilson, to transform and entertain you with his words.
David is a playwright, a teacher, an actor, a comedian, a ghostwriter and a theater producer. His latest piece- A Sudden Spontaneous Event, produced by PURE Theatre, and directed by Sharon Graci, opens on March 3, 2016. A Sudden Spontaneous Event focuses on the character Carol, played by the much lauded Joy Vandervort Cobb and deals with her struggles to pick up the pieces of her life after suffering a stroke. While many can attest that such an undoubtedly traumatic event can upend ones life, David's play focuses heavily on the comedic aspects of coping.
A Sudden Spontaneous Event is David's fifth comedic play, yet only his second involving multiple cast members. His previous works have been one man performances-which any way you cut it is a practice in open bravery. He discovered his affinity for acting in plays at the young age of 5. In childhood he suffered from a pronounced stuttering problem; however when he was acting in countless Catholic church plays he found that his stuttering was non existent-thus his passion was realized.
Nelson spent over 10 years in New York City working on his craft but has found himself back in Charleston, a city he agrees is nearly impossible to shake. David praises the unwavering support of Lowcountry Local First member and collaborator PURE theatre, which was recently honored by critics as the Most Diverse Theater Company. He treasures the local theater scene and values the ability to create and produce in Charleston while not having the ever looming issue of 'How will I afford my rent' that many New York creatives have to tackle.
David has spent many hours of the 14 months it took for this play to come to fruition here in the Local Works space. He's inspired by the energy, ambiance and general coolness of his fellow co work space members. The ability to work on his projects oftentimes late night in a quiet space with unlimited free hummus is of course an added bonus for him.  When not writing David enjoys watching basketball (particularly Virginia Tech), keeping up with the wild and woolly world of politics, spending time at the beach (read more about one of his earlier plays Folly Beach here and hanging with his cat Myles.
Be sure to get tickets to see A Sudden Spontaneous Event, which will be at PURE Theatre every Thursday, Friday, and Saturday in March, with a special "pay what you can" show on Wednesday 3/9.
Joanna Harrison – Superfood Superstar |
October 28, 2015
Joanna is the Jill of all trades for a new Charleston-based natural food startup, which is developing a product line that will feature superfood and plant-based nutritional supplements and snacks. She is assisting the Kale-King, Brad Gruno, in laying the foundation for the yet-to-be-named business that just came together this year.  She and Brad can usually be seen early in the morning, brain storming and strategizing in the lounge area at Local Works. Like any successful entrepreneur, they jumped right into the spirit of coworking and have been collaborating with fellow Local Worker Melissa Barker of MEL BAR MAR in order to create a marketing strategy and brand identity. Keep an eye on the Local Works Facebook page for updates!
Working in the natural food space is an obvious fit for Joanna who is halfway through a graduate program in integrative nutrition, with a specialty in community outreach and pediatric health. Considering she works full time while working towards a Master's degree, she's also passionate about coffee. When she's not thinking about nutrition, Joanna is spending time with her kitten, Coconut, or singing/writing folk-country and playing the violin. She's all about the Charleston music scene and looking for a more permanent band situation… so if you know of anyone looking for a Rockstar, reach out.
Instagram – @joeyjetset (My healthy food page @thecitrus_mistress)
Facebook –https://www.facebook.com/joanna.harrison1
Twitter – not cool enough
Local Worker Launches New Line of Organic and Eco-Friendly Surf Wax |
August 19, 2015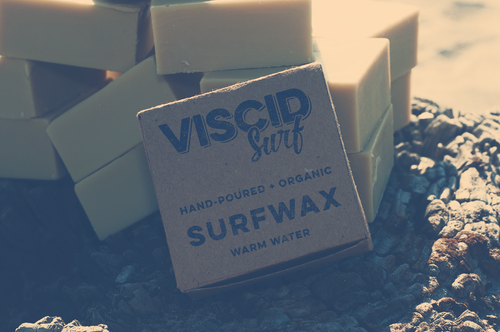 Viscid Surf, one of our Local Workers, recently launched a brand new line of organic, hand-poured surf waxes available exclusively online.
Kevin Schmoll, a local graphic designer and surfer, grew up in Charleston and began developing the formula three years ago.
"As a surfer I always found it strange that a majority of surf waxes are petroleum-based and I just wanted to use a product that was more environmentally friendly," said Schmoll. "After testing countless samples I found that a beeswax-based product worked just as great and still gave a comparable grip and bumpy texture but had an added benefit of stickiness."
Viscid Surf currently offers four different waxes – Base, Cold Water, Warm Water and Tropical Water – ranging from soft to hard wax stickiness for use in various water temperatures. Each bar is lovingly hand crafted and features a light orange scent. A three pack of each wax sells for $6 and is wrapped in packaging made from recycled paper.
The entire line is non-toxic and biodegradable, and provides a more eco-friendly alternative to use in our oceans. "Whenever possible," added Schmoll, "I've gone out of my way to source as many of the ingredients as I can locally." The beeswax is purchased directly from a nearby Johns Island beekeeper.
For more information regarding Viscid Surf, please visit www.viscidsurf.com, on Twitter @ViscidSurf, on Instagram @viscidsurfwax, or on Facebook at www.facebook.com/ViscidSurf.
Arielle Stratton – PARTY.LOVE.BIRDS |
July 27, 2015
Us Charleston folk have our pick of the litter when it comes to exceptional event designers in town. As for Local Works member Arielle Stratton? She's no exception.
The Columbia native started Party.Love.Birds in 2013 and has been on an event planning roll ever since. Her favorite part? "Getting creative," Arielle explains. "I absolutely love finding clients who want me to read their mind and surprise them with a wedding/event/design concept that they were envisioning, but couldn't put words to."
Party.Love.Birds offers a wide range of services that include everything from Day of Wedding Coordination to Annual Corporate Party Planning. (Check out some of their recent work here.)
When Arielle isn't busy dreaming up ideas for clients, she admits she's a bit of a "fitness fad addict" and recently became obsessed with Revolution spin class. Though she proves to have mastered the art of balance, as she also recently joined a ladies only Beer Social Club. We love how well rounded our Local Works members are!
As for upcoming projects? Don't miss Pure Fluff Co, an organic cotton candy mobile cart service for private events. Or, as Arielle calls it, "The ying to my wedding planning yang."
Girl Boss: Eirka Firm |
June 24, 2015
When it comes to design, Erika Firm prefers to take the old fashioned route with pen, ink and paint. "I try to carve out at least one full day per week to get my hands dirty and explore new techniques," the self proclaimed Girl Boss (she really is a Girl Boss, though) and Creative Director behind Analog Creative Co.  explains
A spin off of Delphine, Analog Creative Co. sprang to life in 2003, and they've been on a creative journey ever since. The graphic design studio works with clients on projects ranging from Brand Development (think everything from brand strategy to trade show prep) to Graphic Design (media kits and logo design, to name a few) and Web and Digital Design (enter: email marketing, social media and analytics).
A typical day for Erika? Her Honey Do List includes everything from "crafting emotional connections" to "picking fonts, color matching, and chasing deadlines." She also recently collaborated with fellow Lowcountry Local First member and photographer, Andrew Cebulka, on a photo shoot."I've never met someone with such great energy!" she recalls. And currently, Erika and her team are working with Revel & Co., based out of Colorado, on designing a line of wrapping paper and party accessories.
When she's not in the depths of all things design, you can find Erika exploring the Lowcountry with her husband and 11 year old son. "Our little one is having fun on our mini adventures and is becoming quite the photographer," says Erika.
Keep up to date with Erika's latest Girl Boss adventures on Instagram at @erikafirm, Twitter @erikafirm, and Pinterest @erikafirm and check out Analog Creative Co.'s latest work here.
A Platform for the Creative: Meet Rob Kleiman |
May 20, 2015
In a city where the entrepreneurial spirit is still alive and well, and the font of creative talent is overflowing, promoting yourself professionally is a huge hurdle. The job market can be daunting, and when your passion is your craft, the last thing you want to be doing is spending countless hours staring at a computer screen trying to figure out how to convince cyberspace of your real life talent. Cue Creators' Clubhouse. Like your childhood tree fort, Creators' Clubhouse is a place of imagination and unfettered dreaming; except here, the aim is to make the visions become a reality. Founded in 2014 by Charleston native Rob Kleiman, Creators' Clubhouse's mission is to create a bridge to opportunity. Kleiman works toward advancing Charleston's creative economy and further the success of local artists by providing them with employment information, job placement, career resources, education, and networking opportunities. This platform, in turn, strengthens local business by streamlining the local talent search process onto one user-friendly platform.
Creators' Clubhouse strives to build this community on three main pillars: 1. Networking Events 2. The Cork Board (Curated Job Board / Upcoming Freelance Marketplace) 3. Recruitment and Specialized Talent Search in Creative Industries. In short, Creators' Clubhouse is all about providing the best service and value to you. Kleiman saw the need for efficiently facilitating the placement of local talent, and, as with his business model, his drive is customer development. As he has seen his site grow, he has been able to meet face to face with local businesses and creatives alike, speaking to them about their needs and business goals.
At his core, Kleiman is passionate about discovery. An eight-generation Charleston native with a New Yorker father, Rob is a unique blend of good old lowcountry roots and city-slicker savvy. His goal is to promote local artistic talent while preserving the face behind the work. "Honestly, it's the little things; it's the small wins that I am passionate about right now." And he applies that all all aspects of his life. He is a novice green thumb herb gardener; he is honing in on a screenplay set in Charleston; he makes a point to cook new, diverse dishes every week. "It's cliche, but I've been on a kale kick recently. Everyone is 'kale krazy', but the other day, I cooked kale the same way Southerners cook collards, and I just about jumped for joy." It is this mixture of progressive spirit and local appreciation that makes Kleiman so powerfully potent.
Kleiman has been able to use Local Lowcountry First as a launching pad for this unique creative platform. Kleiman himself sums it up perfectly: "The work climate and connections that come with being a Lowcountry Local First member and a co-worker at Local Works leave me feeling empowered. Without this workspace, I wouldn't have somewhere to come to work every morning. Yet everyday I come to Local Works, I get to follow my dream of building something useful for the creative industries here. Each person working at Local Works is dedicated to its mission and are incredibly passionate about supporting the local flavors here. What more could a young business owner ask for? I am so thankful for the space operated here and the good vibes y'all produce." What more can we say?
By Guest Author Olivia Hipp
Green Roof Outfitters: Meet Michael Whitfield |
April 24, 2015
Michael Whitfield is a lifelong entrepreneur. If he had it his way, he would waste away the hours inventing new things all day every day. He fostered this creative energy at The Citadel–MIlitary College of South Carolina, where he earned his Bachelor of Science Degree in Civil and Environmental Engineering. While studying to become certified as a Leadership in Energy and Environmental Design (LEED) Professional, his passion for the environment and sustainable development grew, and he set his sights on going green. After years of exhaustive research spent in trial and error and trial again, Green Roof Outfitters was born.
Whitfield wanted to make the most of developed space in rapidly growing urban communities, so he made it his business to provide green roof solutions for buildings the world over by building proprietary modular vegetated roof systems. The guiding principle in Michael's business model is to keep both his internal structure and product structure simple, affordable and mutually beneficial for people and their environmental surroundings alike. Not only does adding vegetation to your roof provide environmental benefits, but it also can make a business more financially sustainable. Not to mention, it looks great – Green Roof Outfitters actually designed and installed the beautiful green roof on our facility at Local Works! These aesthetic, economic, and environmental upsides to green roofing add up quickly, making conventional roofing look like an outdated space with missed potential. Green Roof Outfitters strives to harness their inventive spirit into a fluidity that allows them to quickly adapt to the needs of each particular structure they face so that they can achieve comprehensive product solutions for their clientele. The market demands change rapidly, and the team at Green Roof Outfitters works hard to make sure each of their plans is innovative and up to date.
A Charleston native, Whitfield has made a point of keeping his business based out of the lowcountry. He puts a high value on personal relationships, whether it's within the Green Roof Outfitters team, with their clients, or with other local businesses, and they are proud to be members of the Lowcountry Local First community. The local-minded group provides him the opportunity to foster strong relationships that promote future business. Check out their website to see how you could find a specialized green roof design for your home or business and show your support by liking them on Facebook!
By Guest Author Olivia Hipp